Login
Log in if you have an account
Register
By creating an account with our store, you will be able to move through the checkout process faster, store multiple addresses, view and track your orders in your account, and more.
Create an account
Cycle Accident Management Services
Tl;dr
Cars, Vans, Motorbikes, Scooters, Lorries etc. (should) all have valid motor insurance. If they cause a crash that involves you, then you can claim on their insurance. That's what it's there for, and too often drivers get away with being careless and causing injuries and damage that was easily avoidable!
C-AMS are really good at claiming for injury & damage costs, and this service is a No Win, No Fee arrangement. Paradise Cycles has been working with them for many years, and have nothing but good things to say about them.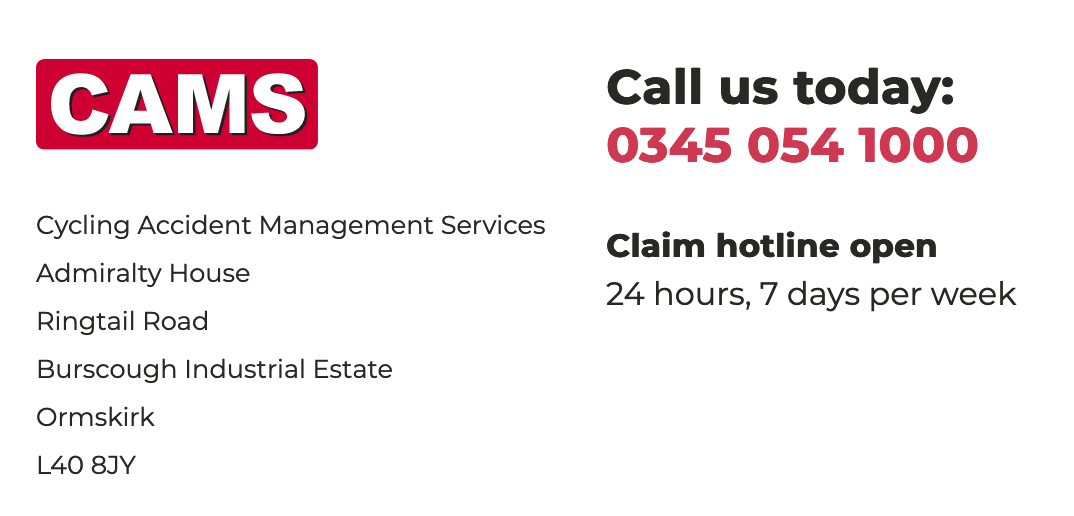 They take a commission from the proceeds, but it's well worth it. Once your claim has been accepted, the success rate is really really high, and you don't have to put much effort in to get a fair result. They may ask you to visit a private doctor at some point, at a time that is convenient for you. Don't wait before starting your claim. Your bruises and scrapes are the evidence that will help secure a payout.
Legal Representation
​If you have had a road traffic accident while cycling, and you believe you have a valid claim, knowing how to proceed can be difficult. To help you, we have teamed up with CAMS (Cycling Accident Management Services), a specialist cycling road traffic accident company that offer a best-in-class service to get you back on your bike as soon as possible. Best of all you do not need to be insured to use this service and their costs are recovered from the drivers insurance company.
AMS means Accident Management Services. CAMS is for bicycles. McAMS is for Motorbikes & scooters. DAMS is something else (Direct AMS). They have been helping people who have been involved in bicycle and motorcycle accidents since the company was founded in 1996. Since then, they have assisted thousands of clients by taking away the inconvenience that inevitably results from losses incurred in any accident.
 
They have dedicated Claims Advisors who deal with your claims quickly and efficiently. Thanks to their long-established relationships with repairers, insurance companies and solicitors, they are able to ensure your problems are resolved to your complete satisfaction.

Their head office is based in Liverpool where they offer a 24 hours, 7 days a week service.
Paradise Cycles & CAMS do almost all the work
To help you, we have put together a service where we handle all the main tasks for you including:
​Collecting your bike.
Preparing an accident report and submitting it to CAMS for review.
Repairing your bicycle to a standard that the same as it was before the accident happened.
Or in the case of a total right off, helping you find a replacement bike.
Our service takes care of all your needs. Firstly, we put you in contact with a professional legal advisor. If you decide to proceed, we will arrange to collect your bike if needed. We will then prepare an accident report. Once we get the go-ahead, the repairs will be undertaken. 
To use this service, simply call us at the shop with the details of your circumstances.
FAQ
Who are CAMS?
CAMS are the cycling wing of an accident management company that has been in the  business for 25 years. They have helped recover losses for thousands of vulnerable road users. They have specialists road traffic accident investigators and solicitors who are waiting to work for you.



Does this service cost anything?
No, they work on a no win no fee basis, they win nearly all of their cases and when they do their solicitors will deduct 25% of your injury compensation. All other compensation like clothing, personal belongings, loss of earnings you get in full.

What's in it for me?
Paradise Cycles and CAMS will work together to repair or replace your bicycle. CAMS will recover your losses for anything and everything you've lost out on as a result of the accident. All as quickly as possible and stress free.



​Why should I choose CAMS?
CAMS make themselves different by replacing or repairing your bike upfront through your local bike shop. This means you don't have to wait for the insurance company to pay out.