Login
Log in if you have an account
Register
By creating an account with our store, you will be able to move through the checkout process faster, store multiple addresses, view and track your orders in your account, and more.
Create an account
Transport for London ULEZ Scrappage Scheme
Transport for London are encouraging people to get rid of their old and polluting vehicles in 2023 as part of their Ultra Low Emissions Zone Scrappage Scheme.
Paradise Cycles is partnering with TfL to try and get people riding electric cargo bikes with the proceeds of their scrapped vehicle, by offering an unbeatable discount on a high quality versatile electric cargo bike.
Why get a BCargo?
It's really, really good value.
It's made in Italy, a mere 1000miles away, by a lovely team of decent bike builders.
The motor is made in Italy as well! Motor manufacturers OLI have done a great job developing a motor which performs better than mainstream Shimano and Bosch systems in the cargo bike catagory.
Paradise Cycles offers full aftercare, support, maintenance & repair services if ever you need help.
There are lots of configurations, for every sort of cargo rider, from delivery couriers to small businesses, and families riding to school every day.
The frame is made from STEEL! So it will take a lot of abuse.
The motor performs better under load than the Shimano motors.
The steering is light and easy to get on with. No clanging of steerer rods here, just twin stainless braided cables.
Where can I see one, and test ride it before placing an order?
We have a test bike at our shop in Bethnal Green, so you can see what your buying before commiting to an order.
THe lead time on new orders from Italy is 4 weeks, so if we do not have the correct configuration for you in stock then it will take a few weeks to turn up from the point that the order is placed.
What if I don't live near London?
Unfortunately we are the only peopl that have this model of electric cargo bike in the UK, so to do a test ride you will have to come to London.
However, we can arrange UK wide delivery (mainland only, Highlands and Islands cost a fortune as you undoubtebly know if you live in these regions). So if you do make the trip to visit us, we can sent the bike on to you for a small delivery cost.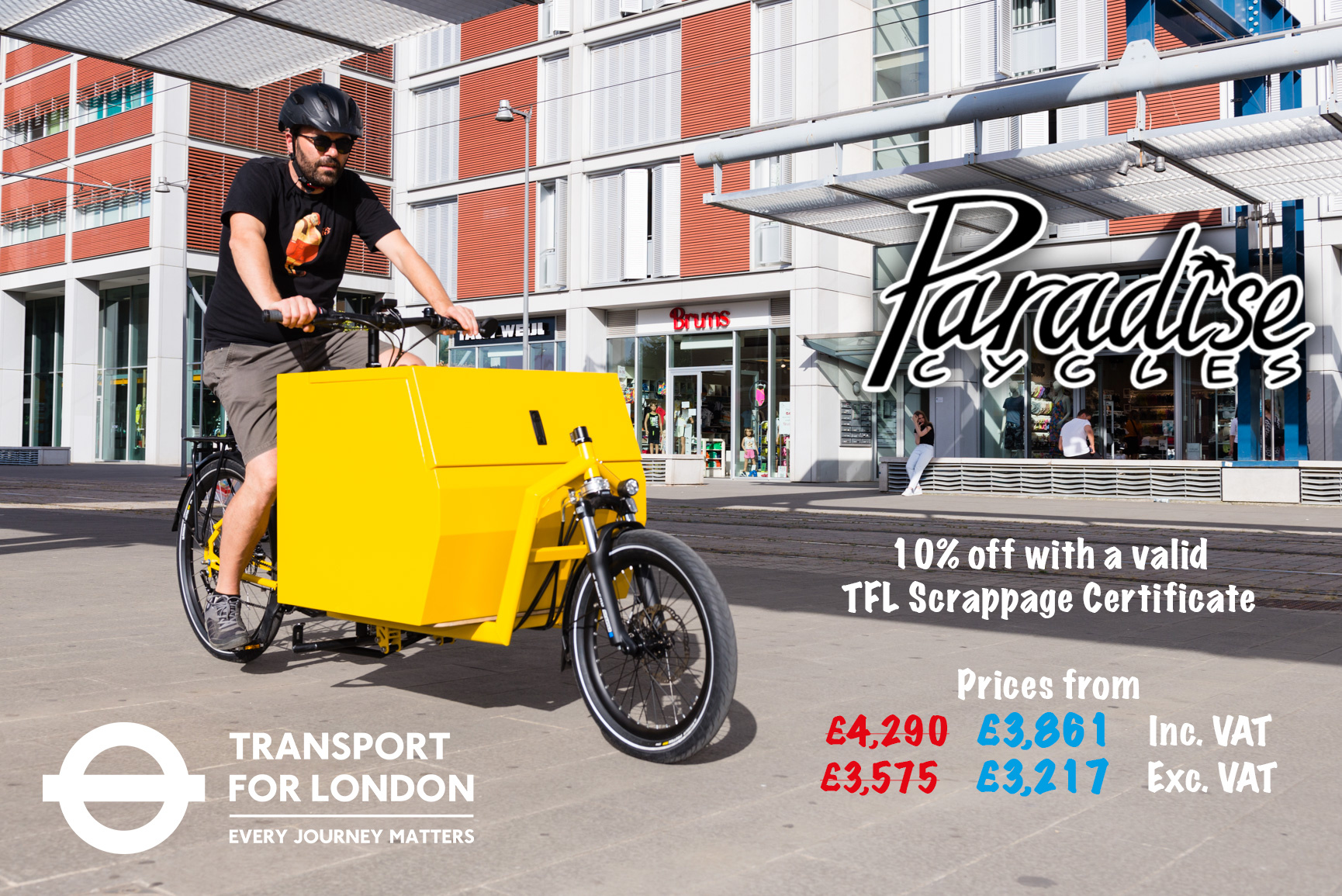 If you have scrapped a vehicle under the new scheme, and have received a certificate to make you eligible for a third party deal, then we are what you can do is either place an order online or get in touch to come and test out a BCargo electric cargo bike at our workshop in Bethnal Green E2.
Use the code SCRAP10 at checkout to get your BCargo Electric Cargo Bike with a 10% dicount.
Before completing any order using this code, we will be checking that you are the legitimate recipient of a scrappage certificate. Paradise Cycles reserves the right to cancel any order that is found to be outside the terms of this offer. This discount code expires December 31st 2023.
NOTE: The RRP of a BCargo Electric Bike is subject to change without notice throughout 2023, due to the following factors: If the Pound varies in relation with the Euro we will adjust the RRP in line with the current exchange rate. The production cost of the bike, and shipping cost between Italy and the UK is currently fixed, but may also change without prior notice. Hopefully this doesn't mean prices will go up, but it's impossible to know.