"Bicycle Shops" allowed to remain open during third national lockdown
Login
Log in if you have an account
Register
By creating an account with our store, you will be able to move through the checkout process faster, store multiple addresses, view and track your orders in your account, and more.
Create an account
Arts London News Article · November 2013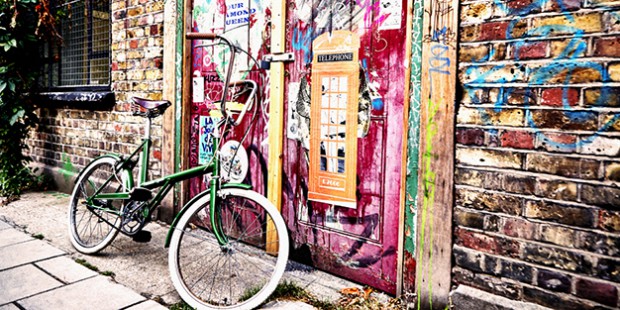 Author: Edwige Dubois
The process of buying a bike surprised me by being a journey in itself, with freedom in the city as its destination.
The power of word-of-mouth led me to meet James and Louis, two ambitious 23-year-old entrepreneurs.
In 2009 they co-founded Paradise Cycles, a custom bike company built on their own ethical values, that aims to support the cycling community in east London.
The House 
When I first stepped into their home I could feel the passion teeming everywhere around me – four or five bikes blocked the hallway, a mass of them were on the staircase and others were jammed into the outside space.
All the business took place downstairs in James' room – filled with more bikes, chilled armchairs, imposing speakers and a pet lizard; the perfect for a chat about bikes.
Paradise Cycles finds its roots in the house itself. Louis and his former flatmates started to build single speed bikes and sell them to friends or acquaintances which, according to Louis, "are real death-traps, to be honest".
A new drive was brought to the project when James moved in to the house; the focus shifted and the ideas were given a new life.
Getting started
A mechanical engineering student at Queen Mary, James had the opportunity to apply for two types of grants, the 'Try it' and the 'Grow it'; the former gives students £500 to start a business and the latter is a larger award of up to £5,000 for established small businesses.
Louis and James went through the whole process, following all the steps from pitching an idea to developing a valid business plan and targeting a determined market.
One of the most remarkable aspects of their initiative is time management ­– James spends about 40 hours a week working on the company and another 30 hours studying.
"You have to allocate separate amounts of time each day and each week. You can't spend all of your time focused on one thing for too long; which in itself is quite good because it means that you have to be more productive when you are working.
"Personal time management is rewarding if you can keep on top of things, that's the challenge for me I guess."
My experience 
James asked me a number of important questions about my cycling needs: "What's your budget? How much will you cycle? What position would you want to ride?"
He then presented me with two choices; a custom-built bike for £250 or the cheaper option to buy a bike on eBay, fix it up and alter anything that needs changing – from cables, brake pads, to the saddle, handle bar or tyres – according to my budget.
I realised how personal it was to own a bike. Do I really care about speed, style or practicality?
As my only cycling experience in London was riding the Boris bikes, I had no idea which position would suit me best. "We can do some test rides next time," Louis told me.
What really struck me was the way Louis and James would continuously adapt and respond to my needs.
Searching for the right bicycle felt like defining my lifestyle and some aspects of my personality. The whole process has been a self-discovery.
After choosing one bike from a selection designed for my budget and requirements, riding the adrenaline rush of bidding on eBay and waiting for a few days, I was riding my 33-year-old Dawes ladies bike – made in England – around the streets of London.
Paradise Cycles tries to tackle the misconception about old bikes stating that there are "under-appreciated frames".
"Cyclist get so attached to their bikes as well, if you're selling your old frame to someone, you want to know that they're not just going to destroy it straight away."
Louis has ridden bikes that are decades-old: "My oldest bike is sixty years old this year and my second is almost 25 years old, so old bikes still go!"
James explained: "Most people will take a while to decide if they want to take more responsibility for the maintenance of their bikes."
I think I'm still in this phase where I just want to cycle, but feel that at some point it will be worth learning about how it works, how long it will last and how to take care of a bike.
Social enterprise
The two young entrepreneurs worked for many years in cycle shops, their experience gave them practical skills and a good idea of how to manage a shop, but also showed them what they wanted to get away from – the vicious circle of consumerism.
"We are more impartial. We have the ability to step back and to say if it's genuinely cost-effective or not. We are not driven by high-end sales so we don't have a massive reason to tell people that it is essential that they spend hundreds of pounds on a bike."
James and Louis are driven by passion rather than anything else — they've been building and fixing bikes for as long as they can remember and what really matters to them is to inspire people to cycle and encourage them to be independent by sharing their expertise.
To serve those principles, James and Louis give tutorials each week at their stall on Queen Mary University's campus on how to fix and maintain your bike.
It's about "changing the perception of what we do to help people then and there, rather than like a bike shop where you would drop your bike off, you would confirm what's going to be done and you pick it up later," explained James.
One of their mottos landed in our discussion: 'Give a man a fish and you feed him for a day. Teach a man to fish and you feed him for a lifetime'.
Ready to cycle 
This led me to ask what their ideas were for the future of the company.
When it comes to Paradise Cycles' future, James and Louis were a bit puzzled. After taking some time to think, they threw in few ideas – a shop with two or three bikes displayed – certainly not rows of bikes, a proper workshop. Above all they wanted to move the business out of their bedrooms.
"It's possible for an idealised independent bike shop to still exist in London," James said with reassurance.
James accompanied me for my first ride on my bike. At first, it felt very unstable to be on thin wheels, leaning so far.
We took a paved path along a park to arrive onto the main road; he observed how I was behaving on the road, checked that I felt okay with my bike.
Once he gave me a few tips, I was ready to fly.