Login
Log in if you have an account
Register
By creating an account with our store, you will be able to move through the checkout process faster, store multiple addresses, view and track your orders in your account, and more.
Create an account
Cycle To Work Schemes

Tl;dr

Save a lot of money on the cost of a new bike, and/or parts & accessories. Typical savings vary between 32-45% off! It is taken monthly as a salary sacrifice as a part of your employers payroll process, in either 12 or 13 equal installments.

That means, for example if your salary is £35k you can get a £3,600 Veloe Multi Electric Bike for effectively £2,448 (32% saving), with a salary sacrifice of £204 per month for 12 months.
Benefits
Get a brand new bike without paying anything upfront.
Get a nicer and more expensive bike that you would if you were paying with cash.
Vouchers can be used to buy parts and accessories only, so you could do some serious upgrades to an existing bike if you want.
Your employer saves a bit of money in the long term.
Disadvantages
It get's a little complicated if you are a self employed person, and not earning regular wages from a single employer.
There is a list of dissallowed items which the voucher cannot be used for, such as labour, food, turbo trainers, etc.
It's a hire purchase agreement, and has legal implications you should be aware of before entering into. Such as:
You don't own the bike until the agreement is ended, your employer does. So don't loose it! Get it insured, or you may end up out of pocket for a bike you no longer possess.
Your personal cashflow is better if you stay at issuing employer long enough to pay the voucher off. If you leave before the end of the term, a lump sum payment would be calculated. Like any credit agreement, it can hurt if you have a big outstanding balance when you try and exit early.
Scheme Providers
Paradise Cycles is signed up with all the main scheme providers, but not every scheme provider.
They all do the same job, or generating a hire purchase agreement document, and providing the correct salary sacrifice instructions to the payroll administrator at your business. They also handle all the questions and agreement admin to save your employer from having to.
To pay for this they take a comission from the sale. The best provider with the lowest commission is GCI, and we thanks them for it! They have excellent customer service and are looking out for small independant retailers. We have never had any issues with them.
In order of favourites, these are the providers we work with:
Green Commute Initiative (GCI)
We DO NOT work with these providers:
Ride To Work (Evans Cycles)
Cycle To Work (Halfords)
Enjoy Benefits
Caboodle
My Benefits World
First Steps
Have a look at the GCI calculator, to see what savings you could make and how much the salary sacrifice would be on a new bike purchase.
CLICK HERE FOR THE GCI CALCULATOR (Opens New Window)
Example of the GCI Calculator: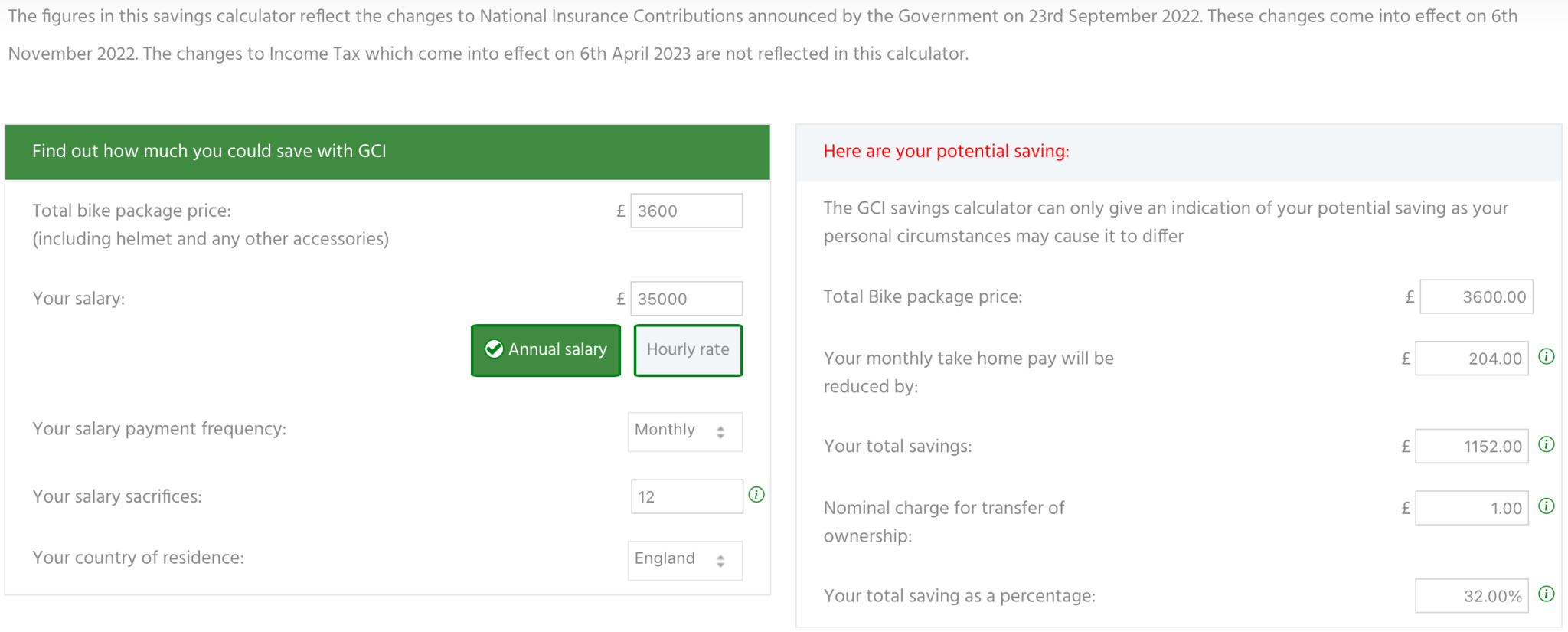 Or try the CycleScheme calculator link by clicking the banner below
Approach your employer, to see if they have used the scheme with anyone else in the company, and if so, which provider was used.
If it isn't GCI or CycleScheme then see if they would consider switching their provider to a new provider (specifically GCI), so the bike shop can benefit from a much lower commission rate of 5% instead of 9+%.
Second Step
Come to the shop, and talk with one of our team about putting an order together that is tailored for you!
We will produce a quote that gives you a good idea of the total you should apply for. As well as a timeline for stock availability, and so on. We may ask for a deposit payment, if the bike has to be ordered.
Third Step
Apply for your voucher. Sign the agreement. Wait for the voucher to arrive in your inbox. Then come and redeem it and ride away.