Login
Log in if you have an account
Register
By creating an account with our store, you will be able to move through the checkout process faster, store multiple addresses, view and track your orders in your account, and more.
Create an account
The Retro Mod: Specialized Hardrock
03 Oct 2022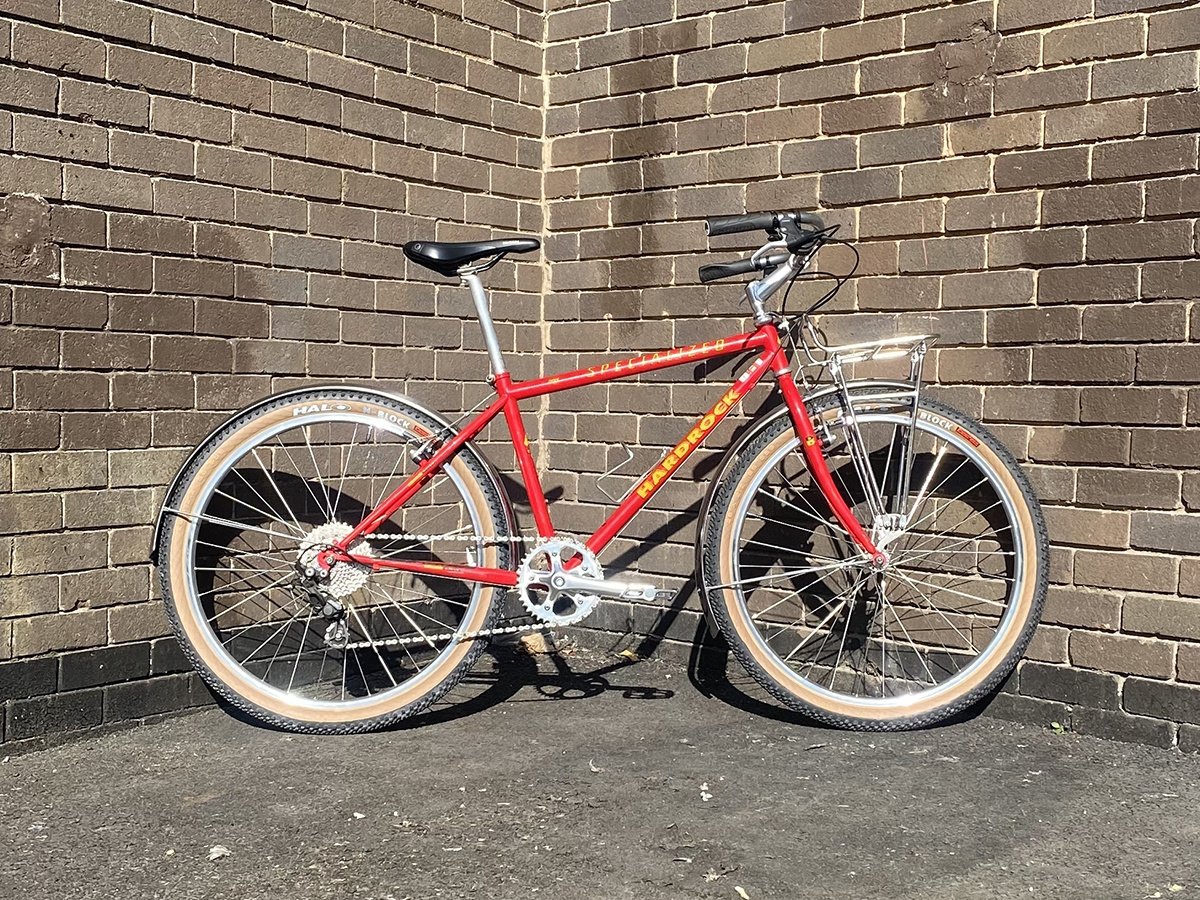 Long time friend of the workshop, Jimmy (@citygent), found themselves in the very fortunate position of needing a new commuter bike in the same period of time as coming across a near immaculate Specialized Hardrock. What a stroke of luck it was.
The obvious thing to do, was to take the best of the old 90's steel mtb (i.e. the frame), and modernise the rest!
BEFORE: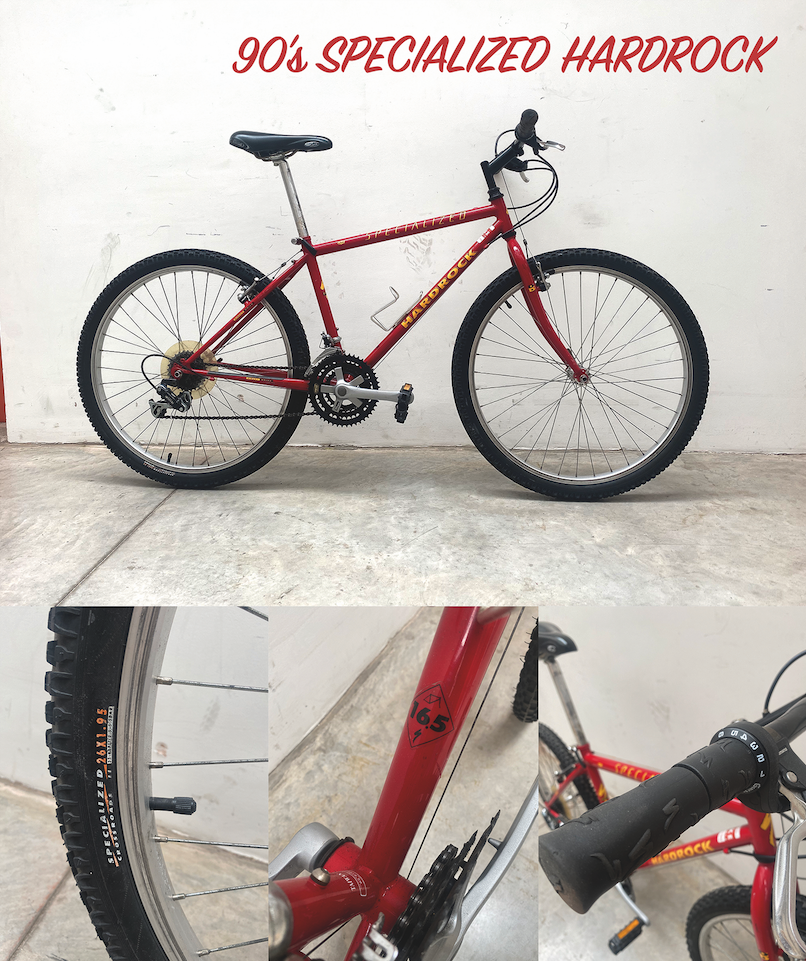 PARTS TO BE RE-USED:
Frameset
Brake Levers & Arms
That's it.
Unfortunately the original wheelset, cockpit and drivetrain were all a bit old, and were either not high performing enough, or just not compatible with our plans to modernise and improve the bike.
RIDING POSITION
The original flat and narrow bar is very simple, and not very comfortable to use for any amount of time, in any conditions. So the plan is to use a wide handlebar, with a lot of backsweep, to allow Jimmy to sit upright with a good posture, and give excellent control while sat down.
Grips and saddles from Ergon cannot be beaten for neutral riding postitions, especially when combined with backswept handlebars and the correct reach for the rider. Ergon SFC3 and GA3 are our go to here.
This bike is meant for grinding around London, so off-road and stood up hangling are not important. Instead, we wanted the bike to be as comfy as possible for cruising around and keeping an keen eye on your surroundings in all directions. Backswept bars are the best for this feature, and can be set at the same level as the saddle so there is still some weight on the bars, moving weight off the saddle, and distributing it between the front and rear wheels more evenly. This build needs to be both agile and comfortable!
GEARING
Simplifying the drivetrain, by getting rid of the triple chainset, and replacing it with a single chainring setup is always sensible when the bike it to be used in mostly flat areas. A 1x9 speed drivetrain is just what we need, with a lovbely shiny silver 38t Garbaruk chainring at the front, with a 11:36t 9 speed cassette on the back. This gives a 327% range of gears, producing between 28.8 to 94.3 gear inches, which covers the essential range for general use.
GEAR INCHES EXPLAINED (kind of)
If you are flying around with ambitions of reaching 25+ mph on the flat, then 94 gear inches may seem a bit low for your hardest gear. But for most people, a gearing higher than 95 gear inches is useless for almost all situations.
And looking at the low end of the range, 28.8 is a decent soft gear, which will allow most people to navigate almost every bit of terrain that London has to offer. Riding up Denmark Hill or Archway into a headwind, with a 20kg backpack is one of the rare situations where you may want a lower gearing than this, so you can save some energy and not get where you're going covered in sweat.
Touring bikes, and mountain bikes often have low gearing options in the 18 - 28 gear inches range, with a compromised high end. So rather than compromise the high end, this range is going to be more than wide enough for the customer.
TYRES & WHEELS
Big, Comfy, Grippy, Gravel, Fast Rolling. Tan Sidewalls? Halo H-Block it is! For a 26 x 2.2" tyre that looks this good, the Halo is a fantastic choice.
Sentient 559 wheels are the obvious choice here. Polished Silver 24mm wide rims from Kinlin laced onto Novatec Sealed Cartridge Bearing hubs in matching polished silver, using Pillar PSB heavy duty spokes. Long lasting. Fast Rolling. Serviceable. Reliable. And good looking too!
FINISHING TOUCHES
Mudguards are essential, but finding polished silver options is a problem. A nice set of Gilles Berthoud stainless guards are the ideal thing, as long as they are installed nicely to reduce the risk of the rattling and annoying scraping sounds which often present themselves in time when using metal mudguards.
The BLB T-Rack is a good way to finish this bike off. As it's lightweightm, easy to strap to, and turns any bike into a mini-cargo rig. The wide backswept Nitto bar handles the extra weight that could be added to the steering, by increasing the leverage on the steerer, and helping to keep the wrists relaxed, so fatigue doesn't set in too soon.
AFTER: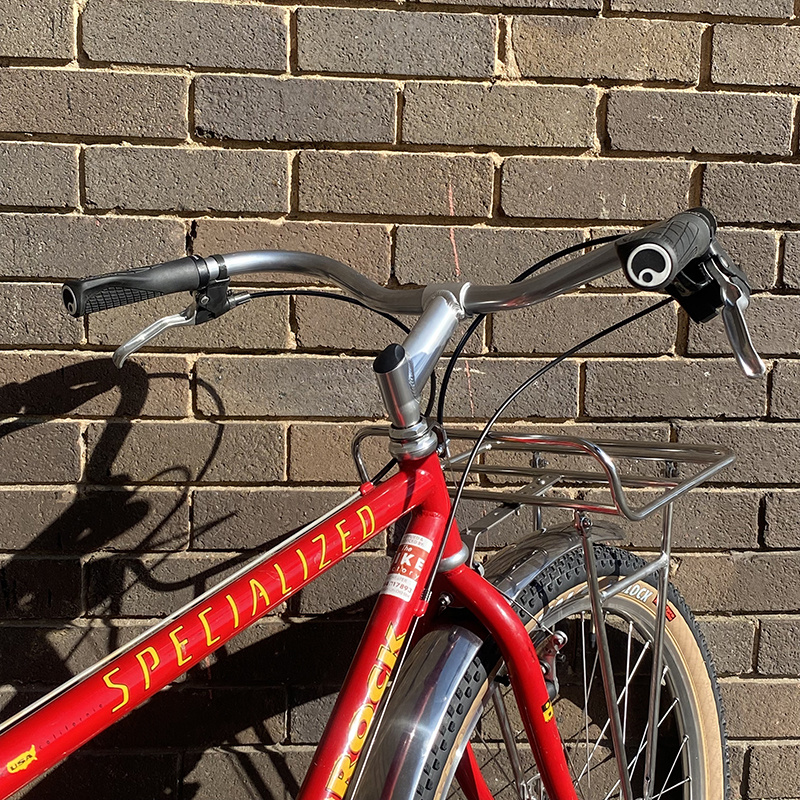 COSTS
The bike was excellent value, at about £120 on Facebook Marketplace.
The labour was £70 for wheelbuilding, and £120 for the rest of the build (inc. mudguards etc.)
The parts cost about £750, but a Cycle Scheme Voucher was used, so all this cost £350 upfront (secondhand parts + labour not eligible for the scheme), with a monthly salary sacrifice of about £38 for a year.
Insurance is £9 per month with Laka. But the bike is more or less irreplaceable, so we have our fingers crossed that @citygent doesn't suffer any vandalism or thefts.
Leave a comment