Login
Log in if you have an account
Register
By creating an account with our store, you will be able to move through the checkout process faster, store multiple addresses, view and track your orders in your account, and more.
Create an account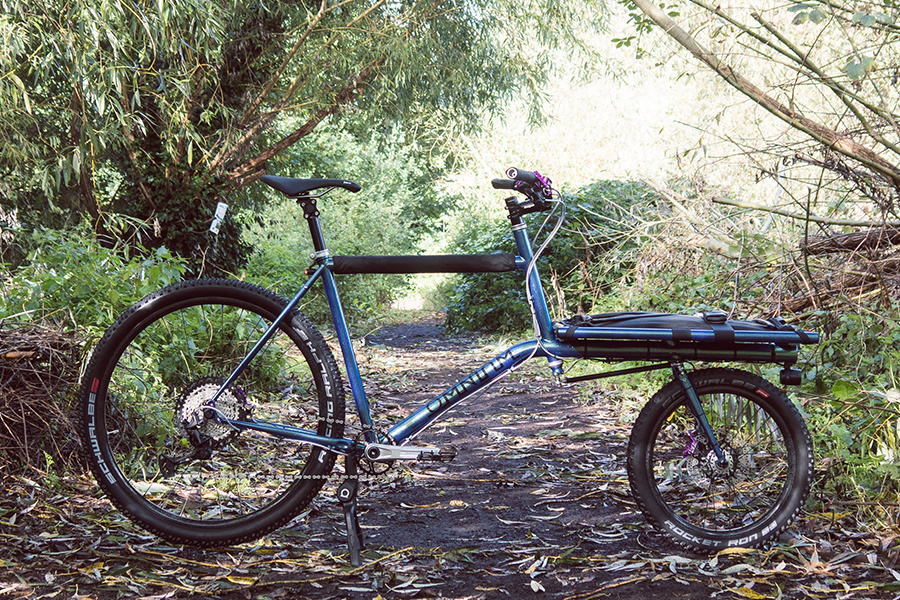 T H E  U N I C O R N

This is a pretty special build, and this is going to be a very long and detailed blog post to read through, so for those of you with a short attention span here is the tl;dr: We built the ultimate cargo packing Omnium cargo Mini-max wifi, and it's very sparkly.

We first got contacted by Ben through Reddit- he actually saw a picture of my own Mini-max out in the wild and bombarded me with a bunch of questions. I responded and it turned out he was planning to build a similar cargo packing bike, albeit a dream build version. Perhaps it was fated that he accidentally contacted one of the few people in the country who could help to facilitate a build as ambitious as the one he had in mind, and give pointers on the specification from my experience and the shortcoming's of my own setup. I was mid-adventure at this point so I told him to contact the shop so he could get the ball rolling.

Fast forward a couple of months, and now we can present the cargo bike build we are most proud of to date.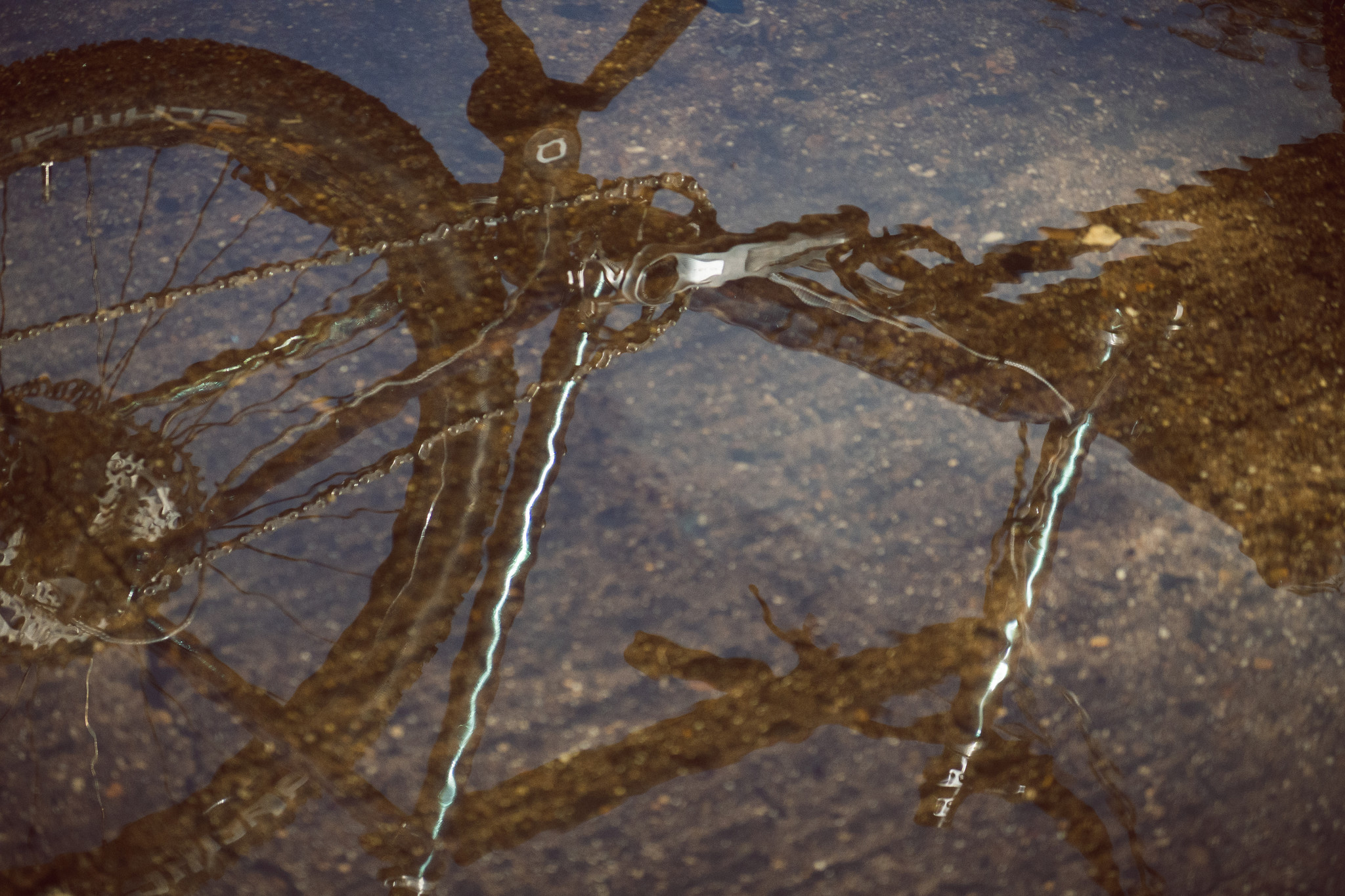 This is just a picture of the Unicorn's reflection for which there will be no apology. This post is far from over but don't worry, keep ploughing through and you'll get to the real tasty photos. Now prepare yourself; it's about to get nerdy...

T H E  S P E C S

We'll start with the canvas. For cargo-packing the best frame is the Mini-max WiFi. It's got a shorter wheelbase than the full cargo, which means it handles better on rough terrain, and has clearance for giant knobbly tyres front and rear. As it's shorter than the Cargo it means that if you're bouncing around over rocks and roots the bottom bracket stays higher, therefore you don't bottom out your cranks/chainset so quickly, which is an issue on rough terrain because at low speed you need to be pedalling at all times to stay upright!
Ben chose the new Space Blue option for his Large frameset. As with other Omnium colourways this year it is a metallic finish, however this one has an almost pearlescent quality, which, in sunlight, reveals silver and pinky/purply hues.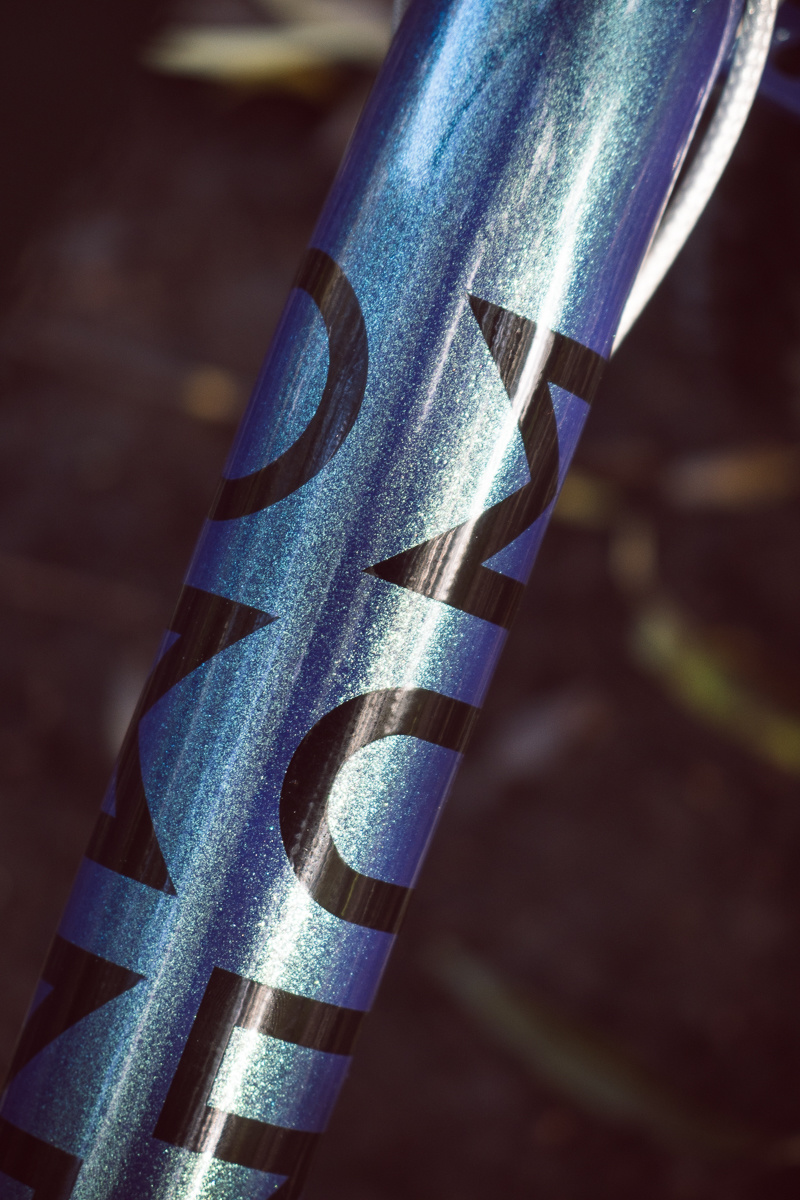 Ben wanted to keep it as tasteful as possible so we decided not to just throw lots of colourful bling components at the frame and call it a day, but rather balance out the build by using silver and black componentry with just an accent of purple.
For our accent it was decided that the Hope brakes should be the component to stand out. We opted for braided hoses to attach the calipers together, which look super nice and provides a sharper brake feel thanks to the superior compression over standard hoses. We went for the Hope E4 brake calipers which have 4 pistons, which you'd normally see on downhill or enduro bikes, so you can be sure they are incredibly reliable at stopping even when fully loaded and descending.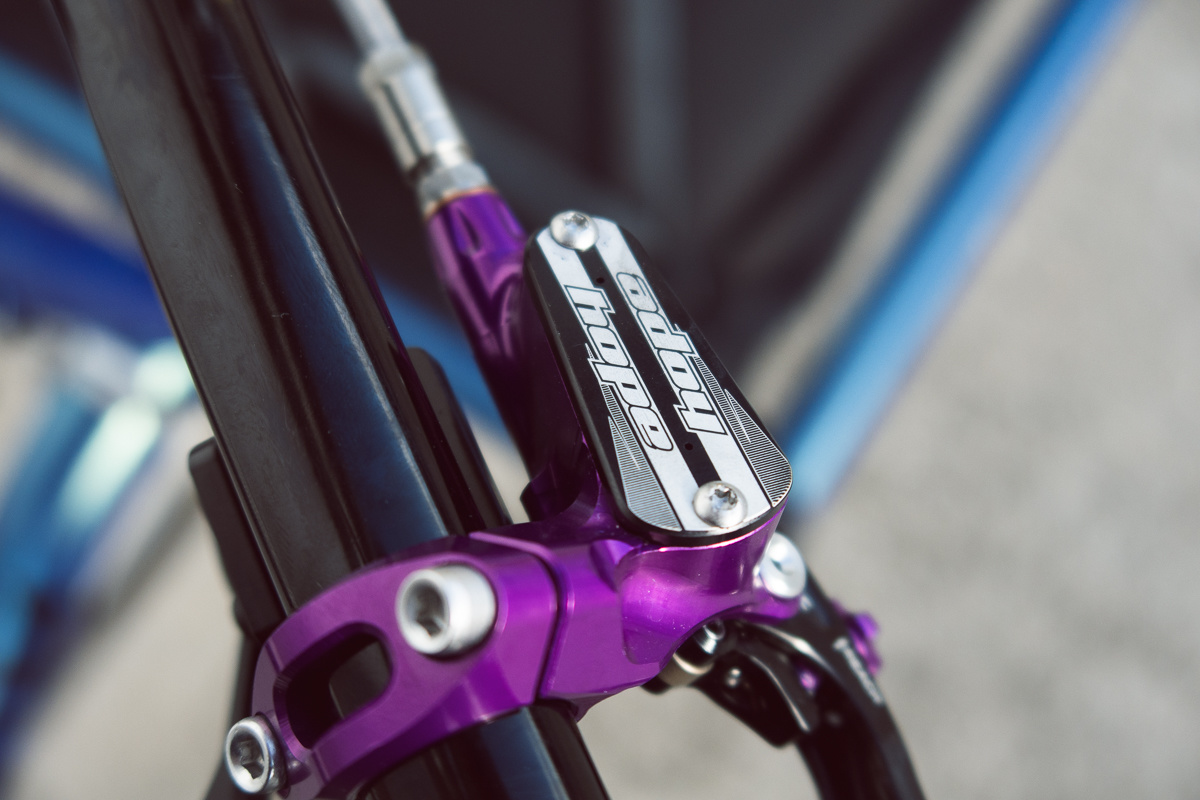 For the gears Ben wanted a massive range. We went for Shimano XT 12 speed, with a microspline cassette which allows for a smallest tooth cog of 10t. The largest sprocket is 51t, which when paired with the 32t oval chainring means Ben has a low enough gear that will allow him to ride up the side of buildings or spin his way up Everest fully loaded.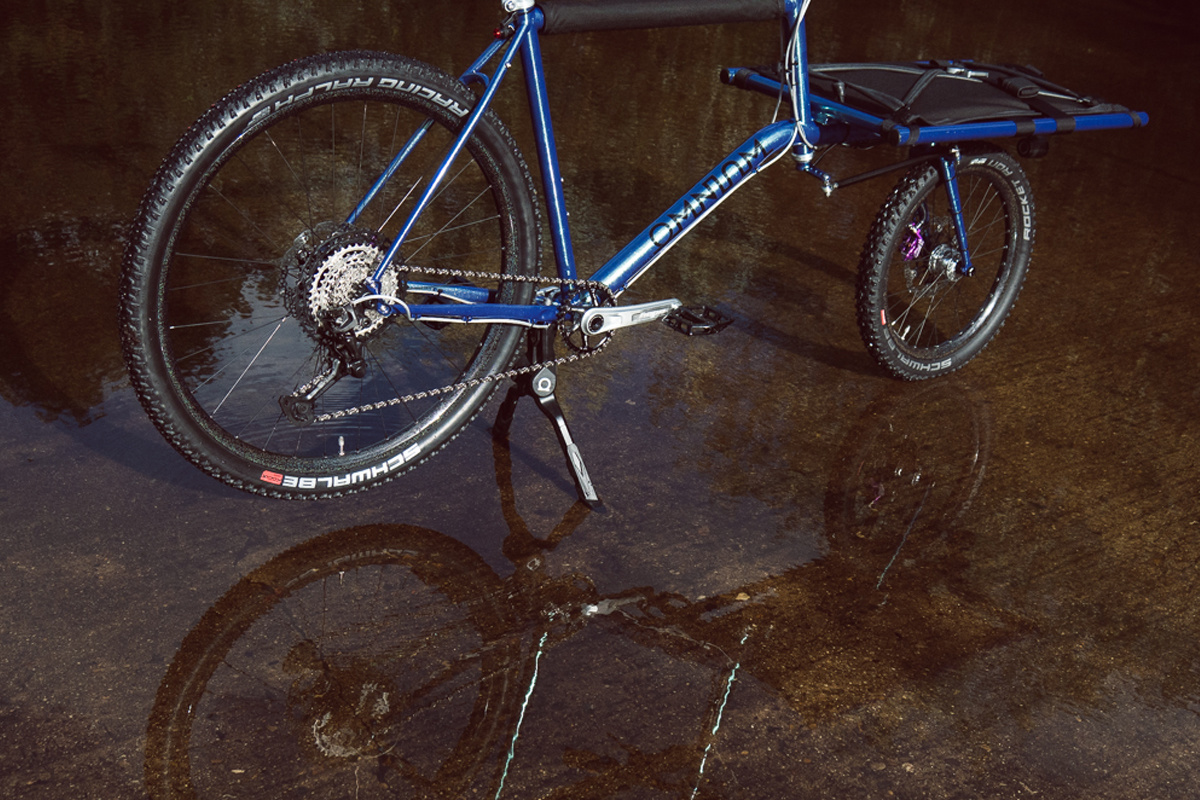 For the finishing kit we went with Soma Dream Riser handlebars, which as the name suggests are pretty dreamy. They offer 25 degrees of backsweep and a smidge of upsweep (5 degrees) which is just the right amount for a natural resting position for your wrists. They attach to the steerer tube with a 0 degree Hope stem in 90mm, and are topped off with Ergon GA3 grips to take it to the next level of comfort.
But there's several levels of comfort it would seem; because if you then add a Cane Creek eeSilk seatpost and a Fabric Cell Radius saddle you get a level of riding comfort that is completely unparalleled (unless you have ever had the chance to sit on a real cloud which Is doubtful/impossible).

B U T  W A I T . . . T H E R E ' S  M O R E ! ! !

The Wheels. You might have noticed in the images so far that they are a little bit sparkly too. Thats because the rims got the Sentient (our in house super special products division) treatment, and are finished in a Galaxy Black to match the finish on the Onyx Racing hub that's on the back.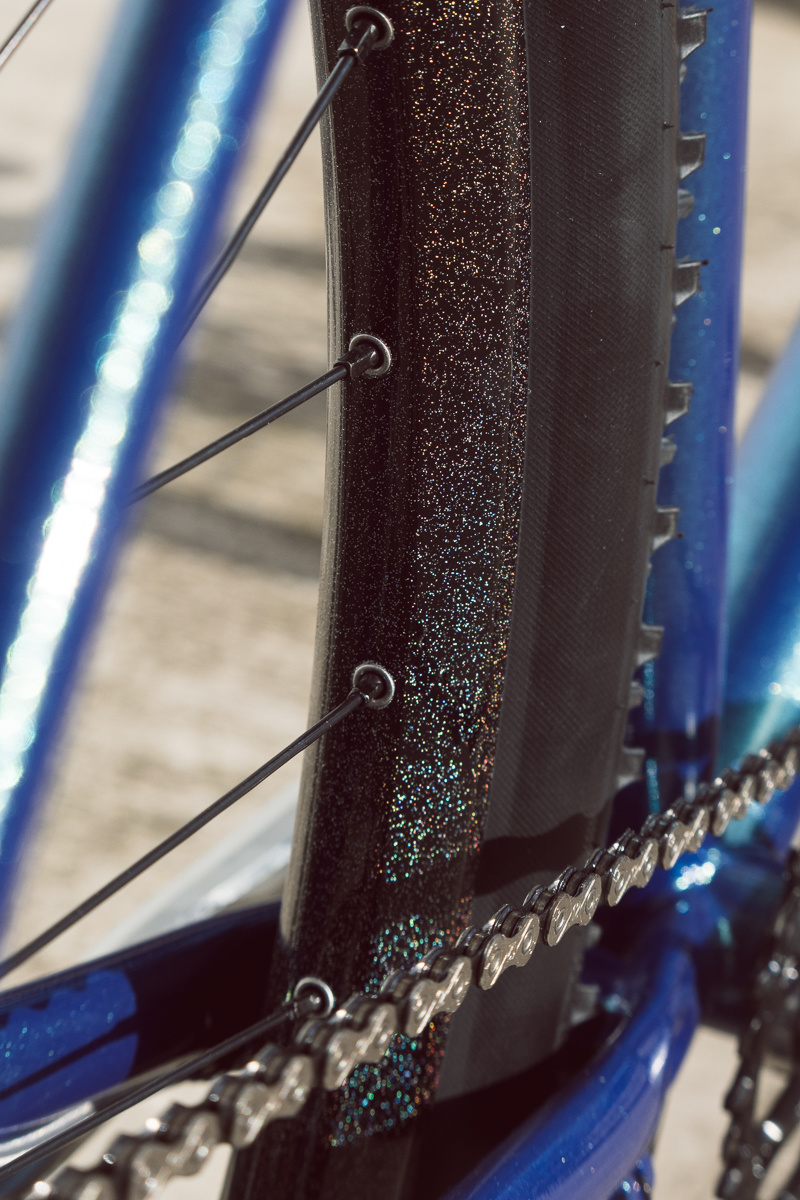 The Onyx hub is something of a marvel, but not for those who like to be heard; as there's absolutely no freewheeling sound, absolutely no hum or tck tck tck as you coast along. It's got instant engagement. It's awesome. Really. The front wheel has a Son Dynamo which powers the Busch & Muller IQ-X lights, as well as an integrated USB charger found in the top cap, called the Cinq5, which will provide Ben a reliable way to charge his devices on the go. Theres a Schwalbe Rocket Ron 20x2.35 tyre on the front and Racing Ralph 29x2.25 on the back, which should keep Ben planted nicely to whatever surface he may find himself on.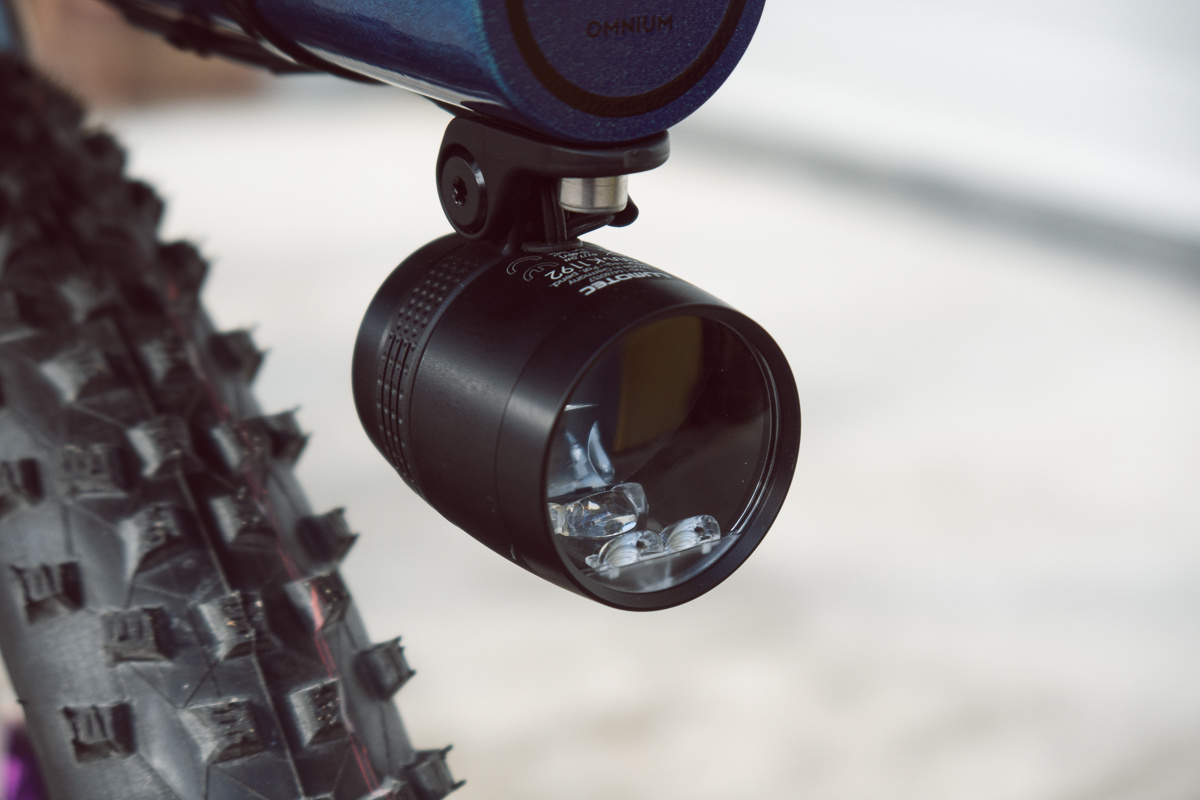 And finally, unless something was forgotten, the rack bed. We've been unsatisfied with all other current offerings (we do think an innertube weave looks great but its 8 inner tubes and at 200g per inner tube, that ends up being quite heavy...) so we came up with our own; a strong, well tensioned bed complete with a giant pocket to stash a ground sheet/tarp/spares/whatever. It'll be available from Sentient going into next year along with Cargo straps, which we have made to be the most robust offering on the market, complete with Cobra buckles and military grade webbing to ensure it's a strap you can rely on.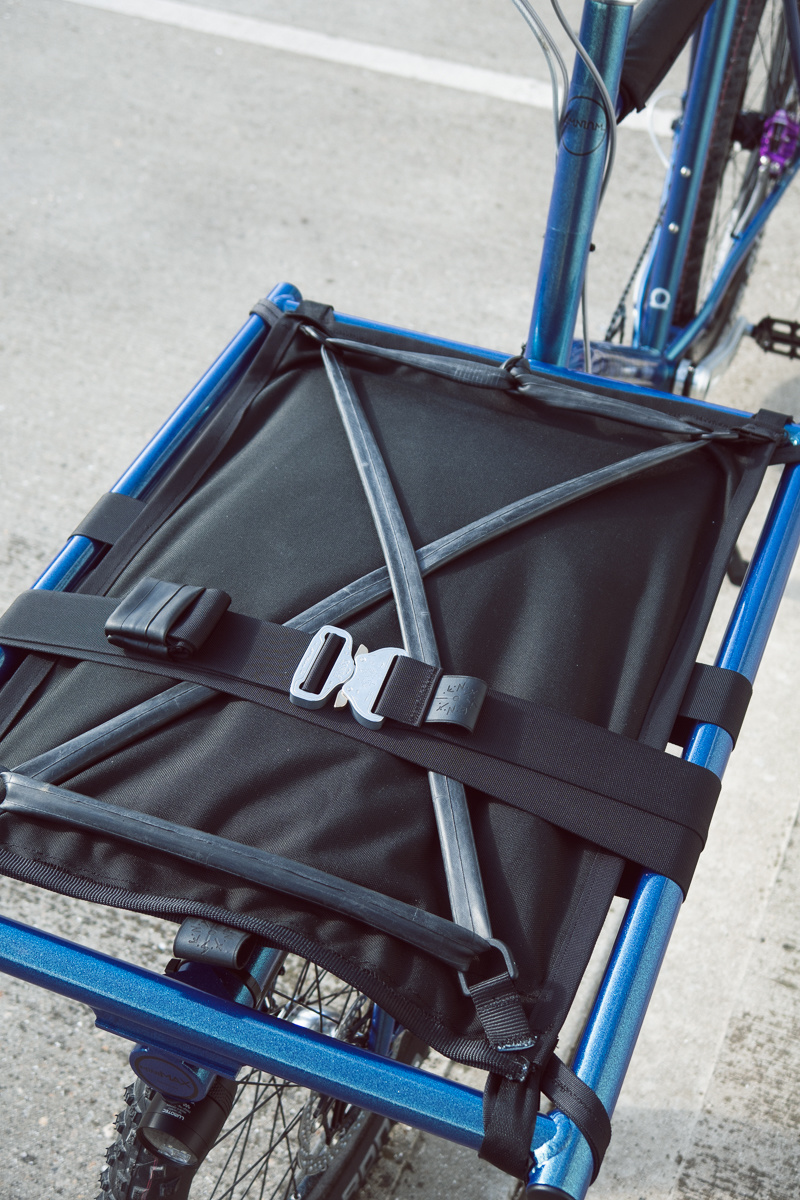 Right. That's about all on this one. Hopefully you enjoyed reading through this blog, if you have then you'll find a couple more posts from the past that you may wish to peruse, and there will be more incoming. If you've got any questions or comments then you can leave them below.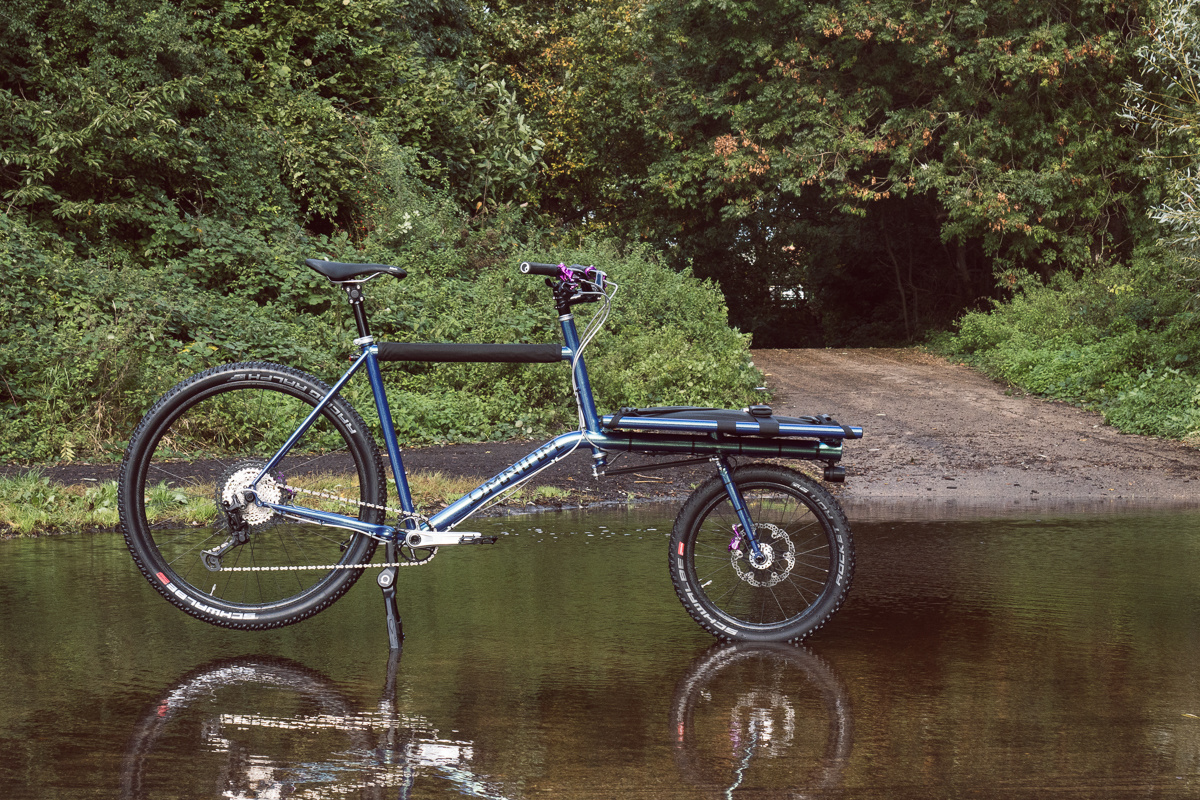 Shoutout to Andy (@andydonohoephoto) for pictures in the article above
and our good friend Andrea for the pictures below!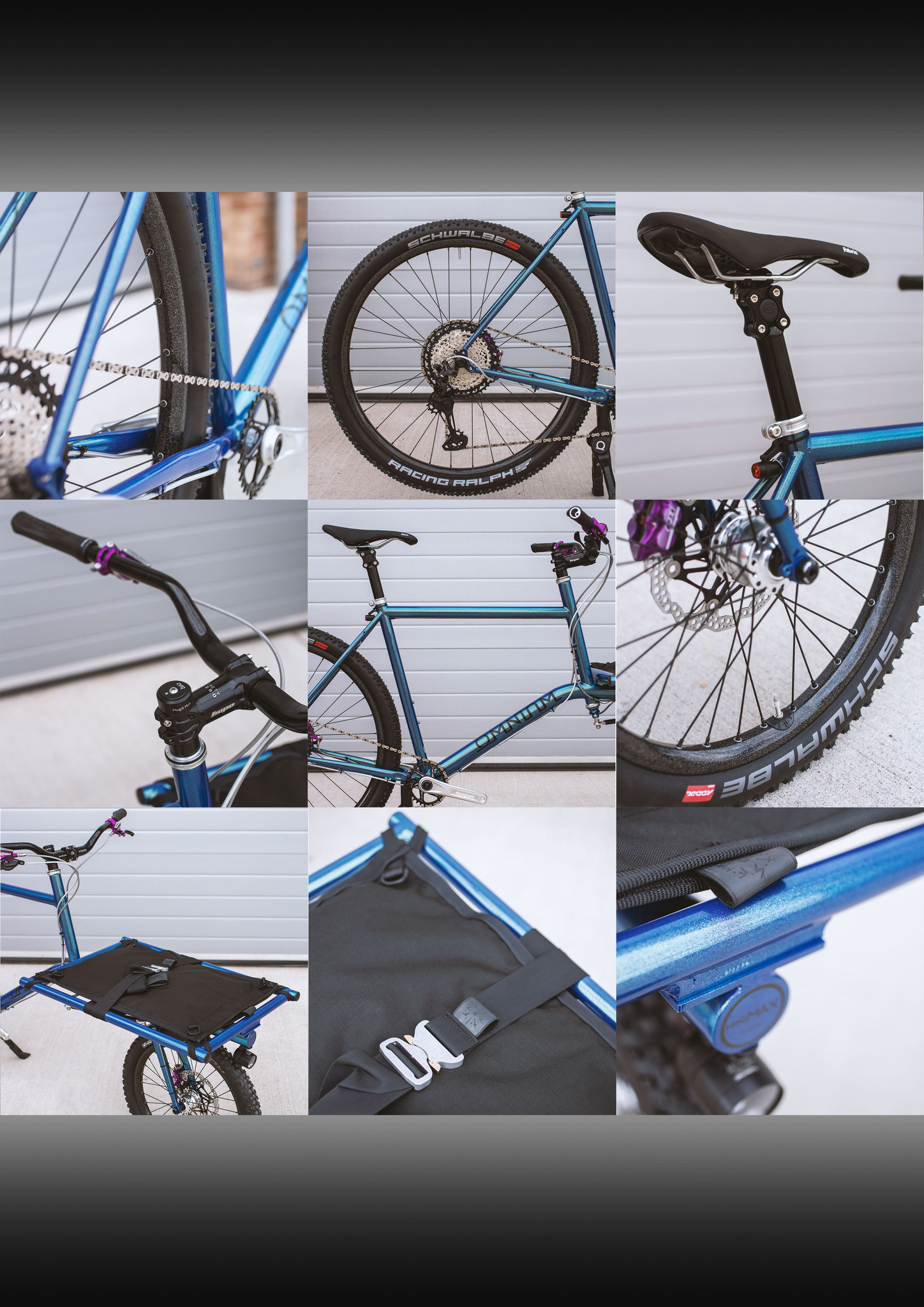 Leave a comment